Headquarters for Fine Art Models
Headquarters for Fine Art Models
Mariner Galleries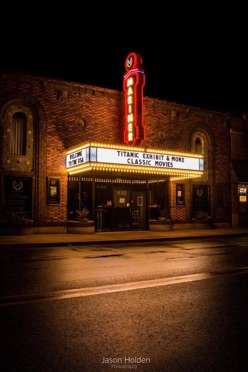 Fine Art Models is located in the historic Mariner Theater in Marine City, Michigan. Built in 1927, the Mariner began as a stage theater, later a vaudeville theater and eventually a movie theater. In the 90's the owner spent an incredible amount of money to convert the theater into offices and a very expensive penthouse apartment above the fly space. It took us two minutes to decide that this was the place for Fine Art Models. The theater faces the St. Clair River and is one door away from the small ferry service that goes to and from Canada.
In twenty-three years of business Fine Art Models never had a retail location because we really don't need one. But now we have a permanent home for our Titanic Builder's Model when it is not traveling somewhere in the world. And the offices and penthouse have been combined to create an incredible gallery of not just Fine Art Models, but world-class unique items from around the world. Most important of all, it's a place and destination for our clients and friends to pay us a visit. And perhaps most important of all, it's a location where we can host our non-profit events built around Titanic to give back to non-profits and charitable organizations. To date, Titanic has raised more than five million dollars for this purpose.
As soon as we took possession of the theater we became busy painting and doing what was necessary to get it ready for our business. We have reclaimed the original stage and found the original stage door going to the outside. Thankfully the opening was tall enough for Titanic to roll in on the stage. The offices and penthouse have become galleries and our offices are in a loft in the penthouse. The loft has a view of the river and is the perfect place to contemplate models and other great things.Today, this magical building has been converted back to its original splendor and glory. From the selected paint colors, which are reminiscent of the days of old, to the curtains that adorn the entryway with a pattern that emulates the old wallpaper that once adorned the walls of this theater in the 1920s. We have added 46 original 1930's mohair theater seats as well as vintage and antique theater lighting all in the period of Mariner's birth. All of these embellishments enhance the overall period feel of this charming icon. We have added a period marquee and Mariner vertical blade with colors that are reminiscent of Mariner's original blade and marquee. The Mariner's movie theater ambiance is made complete with a very special 1917 popcorn machine and peanut roaster!
Fine Art Models is now a destination and can be visited by appointment or during our exhibit hours. If you do plan to pay us a visit you will see world-class models and other exceptional items you may have never seen before. It will be worth the trip!
Gary Kohs